Living in Colorado, it became clear to me that many of the best adventures were found down a dirt road. So I got a new Ford Bronco and began to explore the roads less traveled. Over the past year of off-roading, I've learned so much! I also met lots of folks who bought a new Bronco and were excited to get out in nature but hadn't been off-roading before and really weren't sure where to start learning.
Last summer, my friend Cassie Hughes took me out on Medano Pass in Southern Colorado, a sandy trail that starts inside Great Sand Dune National Park. Cassie's been in the off-road scene for nearly a decade and she has a 2010 JKU Sport with a Bestop Glider that's had everything upgraded for wheeling except the skid plates. During our day out on the trail she dropped a ton of knowledge and I was grateful to learn from a humble pro.
"What's the best way to learn?" I asked Cassie. "Lean into your community," Cassie told me confidently.  "Learn from other women".  So, as part of the community, and with Cassie's input, I put together a few tips for folks just getting started and some resources where you can find more support.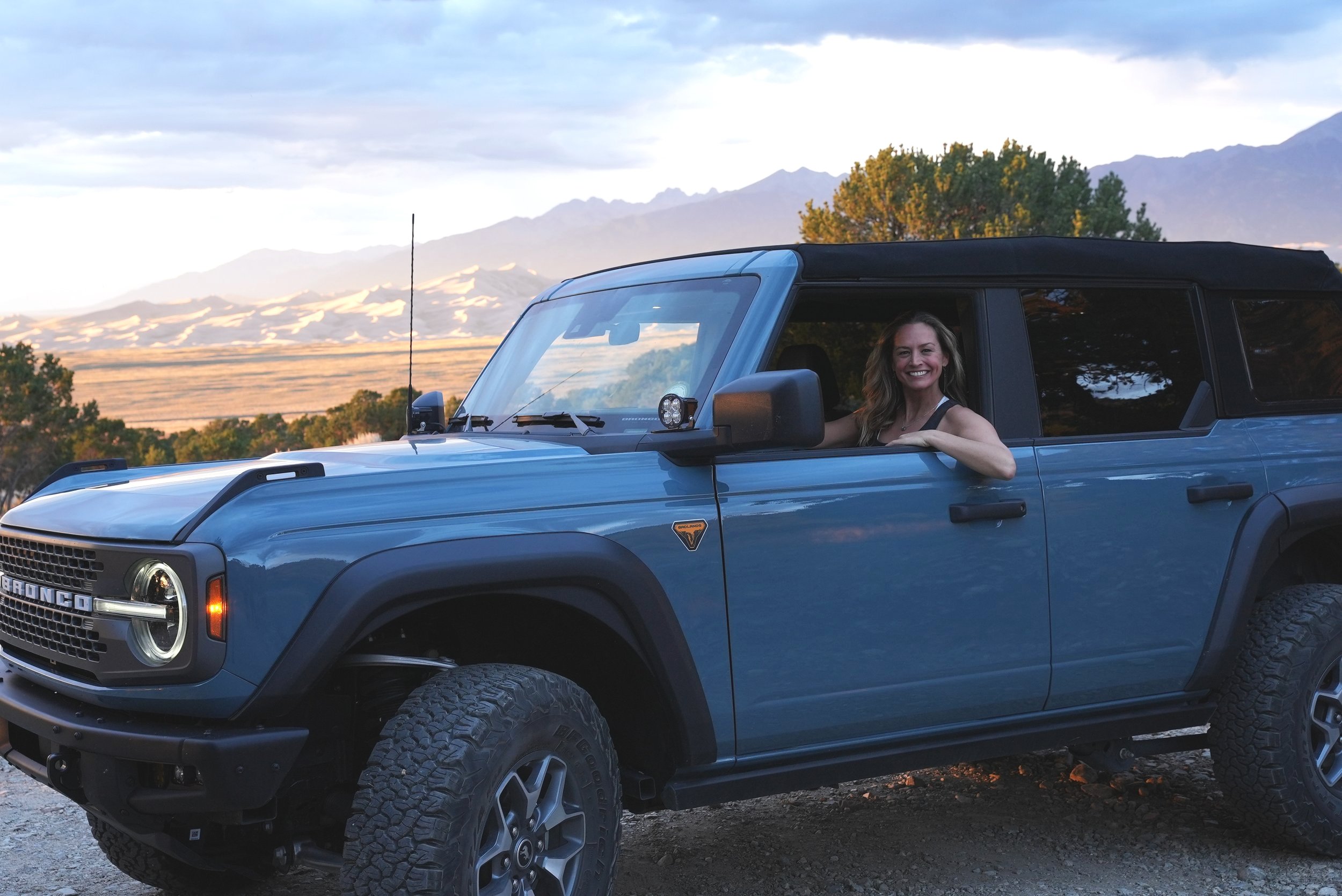 KNOW YOUR VEHICLE.
Although it's a simple concept, many people wait until they are in a risky situation to understand the capabilities of their vehicle. Test your vehicle and understand it's limits first so you are prepared.
As a new Bronco owner, I was invited to attend Bronco Off-Roadeo an immersive experience that teaches new Bronco owners how to use the vehicle's built-in 4×4 features where I was fortunate enough to learn from off-road experts.
START ON EASY TRAILS.
Always research the trail ahead of time and make sure you are comfortable with the obstacles along the trail. Don't go out on any trail that's beyond your capabilities. Start on trails with easier obstacles then work your way up. It's a progression so just enjoy learning as you go. Also, remember that some trails are seasonal, so just check it out before you go.
PRACTICE TRAIL ETIQUETTE.
Everyone is out there to enjoy the natural beauty and have fun on the trail, so be conscious of others and keep a few things in mind:
Vehicles uphill have the right of way.
Signal the amount of people in your group to oncoming traffic.
Stay on marked trails.
Be friendly.
If you can go and the other one can't, go, regardless of the 'rules'.
DON'T GO OUT ALONE.
Obviously it's never a good idea to venture far into the wild without a friend, and off-roading is no exception. Don't drive remote trails alone. Also tell someone else (who isn't in your group) where you're going.
FULL GAS TANK.
Fill up right before you leave civilization to maximize your time remotely. Also, off-roading requires more fuel awareness so pay attention to your vehicle fuel mileage on tough terrain to understand how far you can venture.
BE PREPARED.
Your recovery and safety gear can usually just stay in your vehicle. I always pack a cooler with lunch, snacks and beverages. It gets hot out there and it's nice to have cold refreshing hydration.
Recovery & Safety Gear
Snacks, Lunch
Water
Sunscreen
MAKE IT YOURS.
The off road accessory industry offers a plethora of options to customize your vehicle to get the comfort, efficiency and/or protection you crave. A few of the gear I've added to my Bronco so far includes:
REACH OUT TO YOUR COMMUNITY.
Connect with others who enjoy the same thing. It's a great way to learn, get support and make friends. You can find off-roading groups on Facebook or online.
OFF-ROADING GROUPS, ORGANIZATIONS & RESOURCES: